Matthew Pietrzyk gets the chance of life from an unexpected benefactor who said he "just wanted to help".
An 11-year-old boy who has received a kidney transplant from a stranger after waiting  nearly his whole life has told Sky News his donor is "a real-life superman".
Matthew Pietrzyk had neither of his kidneys and had been on a transplant waiting list for eight years.
He received a kidney from his mother Nicola when he was two years old but it was removed days later following complications.
Matthew was then put on constant dialysis and had to take 18 tablets a day just to stay alive.
Speaking to Sky News from his bed at Birmingham Children's Hospital two weeks after his transplant, he said his donor had given him his life back.
"I can't thank him enough," he said. "He has just given me everything that I wanted; he gave my life back.
"He gave a part of him away to give to me so that I could have a better life … there are no words."
Edward Batch, 39, who lives 10-miles from the family, decided to support them in a running event by raising awareness for organ donation and when he heard more about Matthew he signed-up to become an organ donor.
He posted a message on social media saying: "I don't know if it is as easy as this, so excuse my ignorance, but I have a spare kidney if it helps; I'm more than willing to donate to a good cause."
Only 1% of the population would be a match for Matthew but his mother Nicola says the family "never gave up hope".
"To realise that we have found someone so selfless and willing to help our child, not his child, no blood relation, he didn't even know us, it just re-installs your faith in human nature," he said.
Matthew's father Craig, says he will be forever grateful to Edward.
"It's like a legacy," he said. "Matthew now has a new kidney so he can go on to live a normal life, get married and have children. (Edward) has not just saved Matthew, he's given him a chance to live and have a family."
Mr Batch, who is recovering in hospital, said it was an "honour" to help.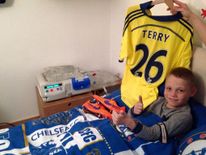 "I'm a really keen runner and saw on social media a request for people to wear the pink t-shirts for organ donation awareness," he said.
"I replied and said I was running the Leicester marathon and would be happy to wear one. It was only after that I found out more and about Matthew's wait for a kidney transplant.
"I just felt I wanted to offer to try and help. I contacted the transplant team and said I wanted to volunteer as a living donor. I'd been prompted by Matthew's special appeal but if it didn't turn out to be a suitable match I would have been a donor to another patient in need if I was suitable."
Matthew's family now want to send a message out about the importance of organ donation.
His mother said she wanted news of Matthew's transplant to "prompt more people to think of the gift they could give others and join the NHS Organ Donor Register".